Plant & Equipment
Gomaco
The Gomaco range consists of curb and gutter machines, concrete slipform pavers, placer/spreaders, trimmer/placers, cylinder finishers, canal machinery and accessories ideal for any concrete construction project.
Gomaco Commander III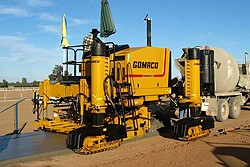 The Gomaco Commander III is recognized around the world as the elite multi-application slipform paver in the concrete construction industry. Capable of tackling curb and gutter, monolithic pavements, recreational trails, barrier walls, bridge safety parapets, six metre wide paving and irrigation canals, no other paving machine in history has been capable of tackling more types of projects and satisfying more customers. The Gomaco Commander III is the most job-proven slipform paver in the world incorporating over thirty years of technology.
Gomaco Curb Cadet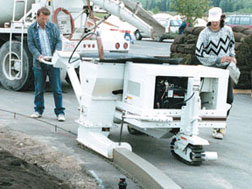 The Gomaco Curb Cadet will slipform concrete curb or extrude asphalt or concrete curb. The extruder is capable of handling zero-slump concrete, is self-propelled and compact in size for easy loading and transporting from job to job. The manual steering assembly with control panel provides the operator with front wheel steering. Mobility is achieved with a hydraulically driven, rear-mounted track. Moulds are quickly interchangeable on the Gomaco Curb Cadet and can accommodate concrete mould configurations that will fit within a 305mm wide by 356mm high section.
For information on the Gomaco range, complete our enquiry form.